About
Calex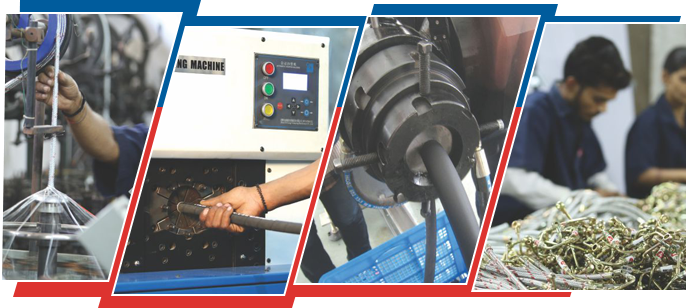 First established in 1976 with the setup of Hose & Pipe Assembly unit in India's capital & one of the biggest industrial hub, Delhi, the CALEX Group has undergone steady growth. CALEX is now a recognised brand in FLUID TRANSFER SOLUTION both in Indian and International markets.
Powered by engineering excellence, the company over the last more than 40 years has vertically integrated and as a result diversified their product offerings to include broad range of Fluid Transfer products and range of engineering products to suit variety of applications. CALEX products are widely used in range of industry sectors like Automotive, Industrial, Agriculture, Railways, Construction, Marine, Defence etc..
CALEX products include Oil & Fuel Hose Assembly, Brake Hoses, Hydraulic High Pressure Hoses, Fabricated Metal Pipes, Fuel Injections Pipes, Thermoplastic Hoses, PTFE Hoses, Power Steering, Polyamide (Nylon) Tube, Industrial Hoses, Exhaust Hoses, Lubricating hoses and Rubber hoses such as Radiator Hoses, Fuel Tubes, Vacuum Tubes and Silicon Hoses. Not only just the CALEX has a hose manufacturing capabilities but also offer complete hose assembly solution with end fittings.
Part of the company's growth and success is its strong focus on being internationally competitive. CALEX has established its far reaching global presence with competitive advantage gained through its ISO 9001:2008 state of arts manufacturing facilities offering single window solution for FLUID TRANSFER PRODUCTS.
A leader in FLUID TRANSFER SOLUTION, CALEX has been trusted as OEM for major brands globally. CALEX also has its wide spread distribution network with it's own representative offices across both Indian sub-continent as well as International markets of AUSTRALIA, MIDDLE EAST, USA, EUROPE to name a few. This allows CALEX to efficiently meet the rapidly changing customers need.
CALEX

About

Calex
Key Highlights & Milestones
Excellence in Hoses & Tubular Components
Manufacturer & Exporters of hoses, pipes and assemblies for automotive, Agricultural & Industrial application
More than 40 Years of experience
An Iso 9001:2008 Organisation with state of art in-house manufacturing Facilities
Well reputed in the Domestic oem's and government organisations
Highly regarded in the international market with key customers across europe, middle east & usa

Founded Calex by Mr. Manmohan Singh
Catered to Domestic aftermarket for HCV, LCV & Tractors

1975
1980

Increased presence with over 50 dealer / distributors across India
Expanded into neighbouring markets Bangladesh, Sri Lanka, Nepal
Uplifted infrastructure & Quality managemant systems
Forayed into the Indian domestic OEM sector
National presence with over 200 Dealers / Distributors across India.

1990
1995

Forayed into International market introducing range of products for European trucks
Strong foot hold in international market with presence across Europe, Middle East, UK, & USA.
Opened representative offices in Dubai and Germany

2002
2012

Opened own overseas office & warehouse in Melbourne, Australia.
Striving for greater milestones.

2014